Planning for post-work life is important as we must take our sustenance and well- being into our own hands and make adequate preparations that enable us have a well-earned rest after a long period of active service. Contributing to a pension scheme while you're working and earning is a critical way to guarantee that you can sustain a reasonable lifestyle after years in active employment.
THE NEW THREE TIER PENSION SCHEME
The Pension Act of 2008 (ACT 766) as amended introduced a new tier 2 and 3 pension scheme to complement the SSNIT pension scheme. The Tier 2 is a mandatory defined contribution scheme where employees contribute 5% of their monthly salary. Tier 3, on the other hand, is a voluntary scheme where employees and/or their employer contribute up to 16.5% of their monthly income towards the employee's pension.
THE THREE TIER PENSION STRUCTURE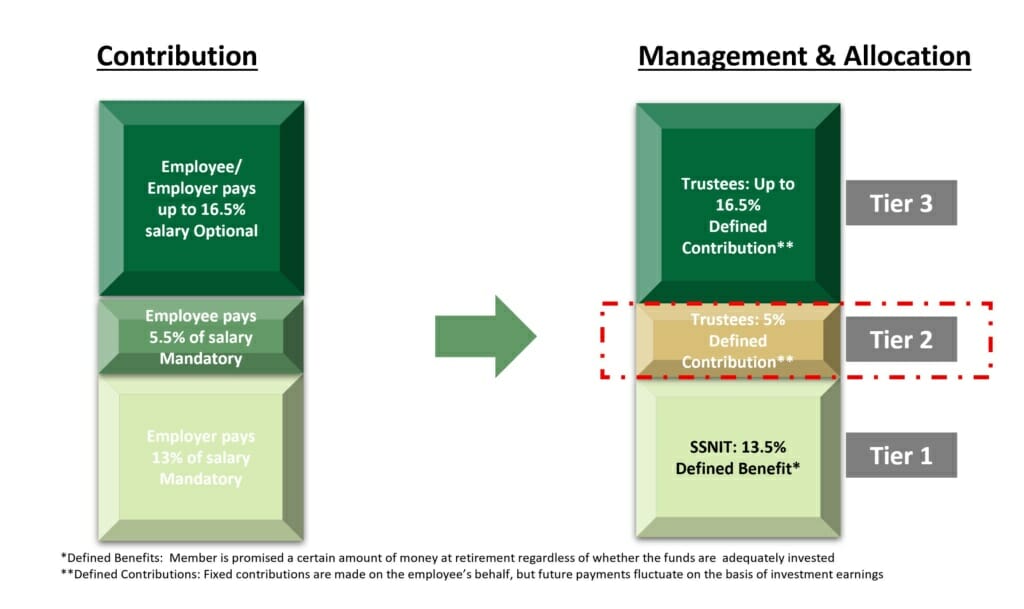 THE THREE TIER PENSION SCHEME – BENEFITS
Features
Tier 2
Tier 3
Portability
All contributions and net returns on investments may be bequeathed as an inheritance.
Can be moved from one Scheme to another (tax free)
All contributions and net returns on investments may be bequeathed as an inheritance.
Can be moved from one Scheme to another (tax free)
Accessibility
Can be accessed at statutory retirement age of 60
Tier 3 is accessible at any time
Segregation
Neither government nor employer has access to the funds
Neither government nor employer has access to the funds
Income Earned
Depends on the quality of investments made by Trustee
Depends on the quality of investments made by Trustee
Tax Advantage (Contributions)
Contributions made into your tier 2 are not subject to income tax
Contributions made into your tier 3 are not subject to income tax
Tax Advantage (Withdrawal)
Withdrawals from your tier 2 upon retirement are not taxable
Withdrawals from your tier 3 at any time after 10 years are not taxable
Retirement Benefit
Lump Sum
Lump Sum
Mortgage
May be used to secure your primary mortgage without any tax obligations
May be used to secure your primary mortgage without any tax obligations
Use As Security
Cannot be used as security for borrowings
Tier 3 assets may be used as security for borrowings